Hands and Feet

Hands are generally considered the hardest part of the body to draw; even after years of practise you'll probably still have trouble with them (I still do sometimes). Hopefully this tutorial will make drawing them a little easier, or at least give you something to practise.

First you need to understand the basic shapes. It's best to start with the 'shovel' (or the uh... part of the hand which isn't fingers of the thumb. We really need names for things like this...) Note how it's not a square shape; the knuckles aren't in a line like many people draw them.

Then add the thumb. Your thumb moves from the base of your hand and moves independantly, so it's best to think of the segment inside the 'shovel' as part of the thumb as well.

As you know, fingers have three segements. These aren't all the same length; they're longest at the base and short at the tip. The index finger and ring finger are approximately the same length (females have longer ring fingers and males have longer index fingers).


When you're happy with the proportions on your plan, sketch the solid shape of the hand. Don't worry about details at this stage; you may want to look at your own hand for reference.

When you're happy with your outline, then add the details. Once again, the best reference you can get for this is by looking at your own hand.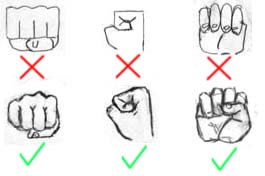 Here's a few common mistakes that people tend to make when drawing fists.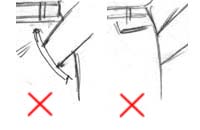 Oh, and two last no-no's. If you don't practise drawing hands you won't get any better! Hiding hands may seem like an easy solution but it looks obvious and often takes away from the picture.